Park Avenue Animal Hospital is proud to welcome its new veterinarian, Dr. Gina Hinton –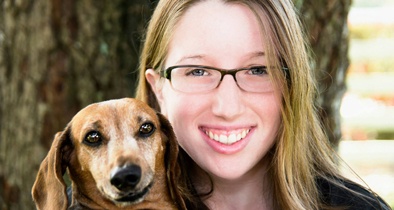 As the daughter of a veterinarian, Dr. Hinton has been involved in veterinary medicine all her life. She grew up surrounded by animals of all kinds and worked in clinics as a kennel technician, receptionist and veterinary assistant. During her freshman year of college, she decided that being a veterinarian herself was what she wanted to do. She said: "I fought for it. It was my passion. It was a very difficult trip, but it was my dream, so I didn't give up.
Dr. Hinton has achieved his dream. She earned a BSc, MSc in Microbiology and Cell Sciences, and Doctor of Veterinary Medicine from the University of Florida. While earning her master's degree, she also taught middle school math and science. She has a particular interest in rehabilitation and microbiology and hopes to one day return to academia to help train the next generation of veterinarians.
Dr. Hinton joined her father, Dr. Rick Rubinstein, Dr. John Turgai and Dr. Brie Nelson at Park Avenue Veterinary Hospital in June this year. In her spare time, Dr. Hinton enjoys reading, running and relaxing with her husband and the adopted Greyhounds.
For more than 14 years Park Avenue Veterinary Hospital offers a wide variety of services to keep your four-legged friends healthy. With state-of-the-art technology and a small-town doctor's bedside manner, they're equipped to treat almost any ailment your pet may face.
Although dogs and cats are by far the most popular choice for most pet owners, doctors in Park Avenue Veterinary Hospital have a special place in their hearts for all animals, furry, feathered or scaly.
With over 40 years of combined quality veterinary experience, the doctors have gone far beyond standard veterinary training and practice to further their knowledge of animal care to include reptiles, rabbits, ferrets, birds, guinea pigs, etc. Whether it's an annual checkup or a critical emergency, they're ready to handle any situation.
Routine exams, vaccinations, dentistry, and nutritional and behavioral counseling are just a few of the services provided by doctors and staff in a beautiful office as comfortable as your own home.
Whether it's a dog or a cat, a ferret or a chinchilla, a gecko or a bearded dragon, a parakeet or a macaw (even occasionally d 'a hawk or an owl!), their goal remains unchanged: to provide affordable health care for companion animals without sacrificing the quality of medicines, and to provide consistent and reliable information. for pet owners to help them make the best health decisions for their pets.
You will find that the staff of Park Avenue Veterinary Hospital treat their customers and the people of Apopka as part of their family. They take pride in their community and strive to make everyone feel welcome at their clinic.
Park Avenue Veterinary Hospital is conveniently located at 847 N. Park Avenue in Apopka. Call today at 407-880-9446 to schedule an appointment or visit them online at www.parkavenuevets.com.
Advertising