Leading Veterinarian Spotlight: Chickasaw Trail Animal Hospital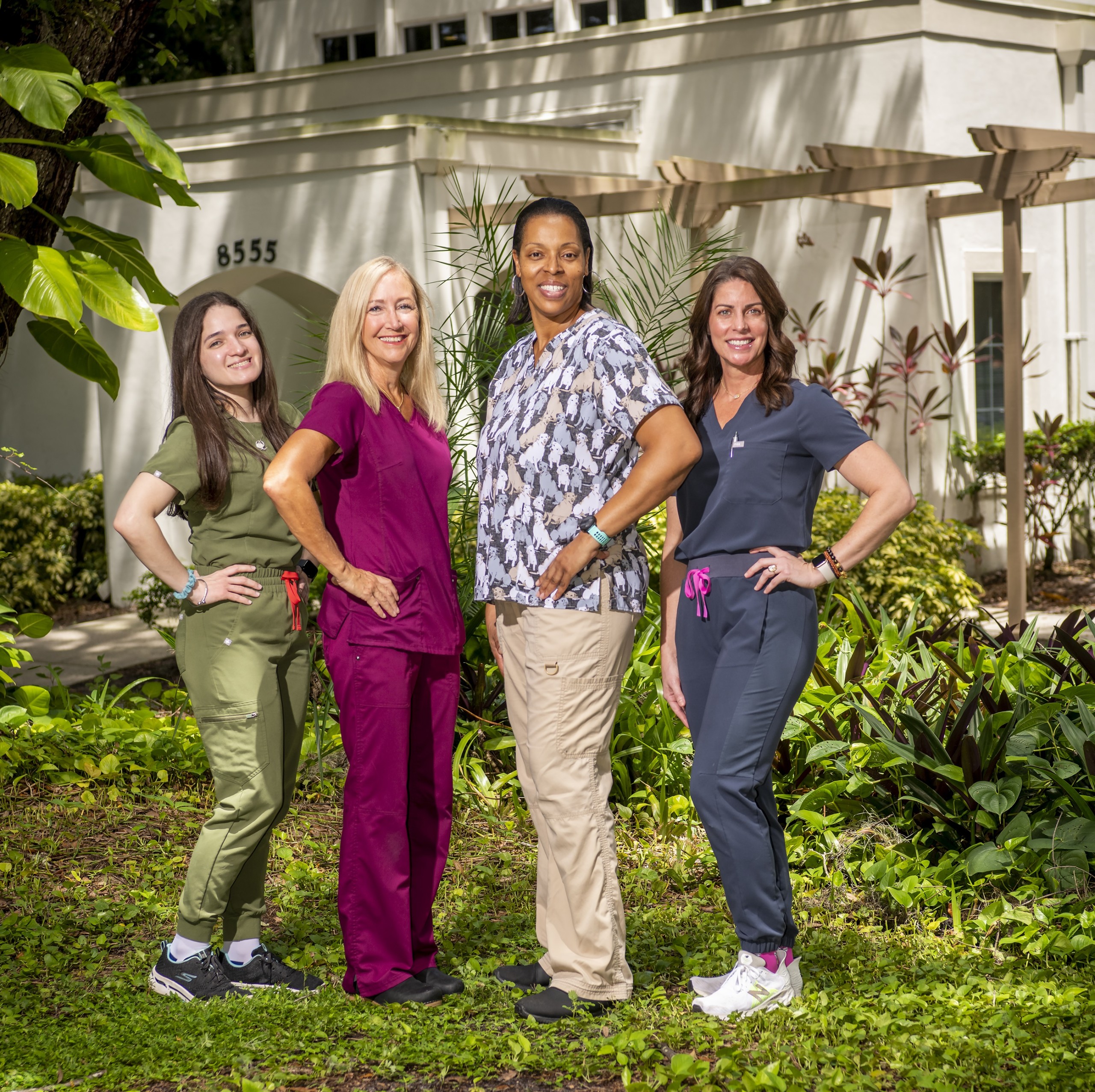 CHICKASAW TRAIL ANIMAL HOSPITAL
From left to right: Viviana Diaz Santos, DVM; Anne Scholl Mealey, DMV; Kenya Howze, DVM; Jaime Gillipsie, DVM
SPECIALTY/FOCUS:
Our small animal hospital serves the Orlando area for over 28 years. We focus on the health care of cats, dogs, ferrets, rabbits and pocket pets. Services such as wellness and preventive medicine, internal laboratory, pharmacy, veterinary prescription diets, digital x-ray, ultrasound, laser therapy, acupuncture, dentistry, dental x-ray, routine surgeries and advanced soft tissue and orthopedic surgeries are performed by highly trained and dedicated staff. In In addition, we also offer "peace of mind" boarding, daycare and bathing services.

OUR DOCTORS/SPECIALITIES:
Dr. Anne Scholl Mealey (DVM, 1989, Colorado State University): surgery, orthopedics, ultrasound, food and inhalation allergies, nutrition, ferret medicine; Dr. Jaime Gillispie (DVM, 2004, Mississippi State University): surgery, internal medicine, alternative pet health care, acupuncture; Dr Kenya Howze (DVM, 2000, Tuskegee University): surgery, soft tissues, internal medicine, weight loss; Dr. Viviana Diaz Santos (DVM, 2022, Ross University School of Medicine): internal medicine, dentistry.
PROFESSIONAL MEMBERS/AFFILIATIONS:
Florida Medical Veterinary Association, American Veterinary Medical Association, Central Florida Veterinary Medical Association.
AWARDS/HONOR:
2002 Veterinary Hospital Design Merit Award in Economics; 2002 National Guard American Patriot Award; 2005 Greater Orlando Business Ethics Award; Best Vets 2014, 2013; 2014 Best of Orlando East; Nextdoor 2022 App Favorite Veterinarian.
WHY CHOOSE US :
We provide the highest quality medical and surgical care to our patients and offer the best service to our customers. Our customers are our friends as well as our customers, and we appreciate their continued trust. We value every pet owner relationship and care for your pets as if they were our own.
own.
WHAT SETS US APART:
Our compassion and work ethic. We go above and beyond to help every customer with their pet's health.
CHARITY WORK:
We provide services for Pet Rescue by Judy, Bully Up Rescue, Stinky Pete's Ferret Rescue and American Belgian Malinois Rescue. We are honored to care for the wonderful bloodhounds of the Orange County Department of Corrections.
Glad to welcome Dr. Diaz Santos to our Chickasaw Trail Animal Hospital family!
ABOUT DR. DIAZ SANTO:
Dr. Díaz Santos was born and raised in Puerto Rico. Keen to work with animals since childhood, she first pursued undergraduate studies in biology at the University of Puerto Rico to complete the prerequisites while working as a veterinary technician at a local clinic. She then enrolled in Ross University School of Veterinary Medicine in St. Kitts and graduated as a veterinarian. Now having her dream come true, she aspires to further her education by pursuing certification in acupuncture, as well as the Fear Free program, to better serve her furry patients. In her spare time, you might find her at the movies with her best friend/sister Verónica, watching her favorite shows with her fiancée Nomar, or in bed reading a good book.
CONTACT INFORMATION:
Chickasaw Trail Animal Hospital
8555 Curry Ford Rd.
Orlando, FL 32825
Such. : (407) 384-8050
Fax : (407) 384-8708
Website: chickasawtrailah.com
Facebook: Chickasaw Trail Animal Hospital