KFSH&RC Achieves AAAALAC International Accreditation for Animal Care and Use Program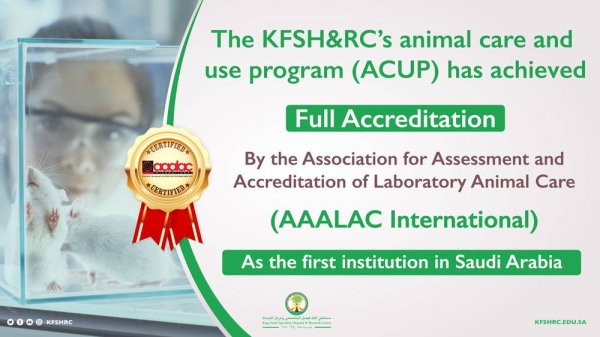 Riyadh — The laboratory animal care and use program at King Faisal Specialist Hospital and Research Center (KFSH&RC) has received accreditation from the Association for Assessment and Accreditation of Laboratory Animal Care International (AAALAC International). It is the first research institution to receive this accreditation in Saudi Arabia.
The Head of Comparative Medicine and Chief Scientist of Clinical Veterinary Medicine at KFSH&RC, Dr. Abdullah Asiri, said the hospital receiving this full accreditation is proof of the excellence of the institution and its members to conduct global medical research with the highest ethical standards.
This important accreditation also reinforces global credibility and excellence in research and surgery and underscores the institution's commitment to the best and humane use of animals in medical research to advance the scientific movement globally. in a manner consistent with Saudi Vision 2030. .
He noted that the program aims to use animals in major preclinical medical experiments, such as cancers, heart disease, contagious diseases and genetic diseases, where these animals are used in experimental surgeries for organ transplants. and developing microsurgery.
Dr Asiri added that many contagious diseases have been eliminated through the use of laboratory animals, and what we are seeing today of success in controlling the novel coronavirus (COVID-19) pandemic through the use of vaccines highlights the importance of laboratory animals in medical discovery and disease elimination.
AAALAC-International is a private, nonprofit organization that promotes the humane treatment of animals in science through voluntary accreditation and assessment programs.
When animals are used, AAALAC works with institutions and researchers to serve as a bridge between progress and animal welfare.
This is done through AAALAC's voluntary accreditation process in which research programs demonstrate that they meet the minimum standards required by law and also go the extra mile to achieve excellence in care and support. use of animals. — SPA