Helen Woodward Animal Center matches puppies with veterans on Veterans Day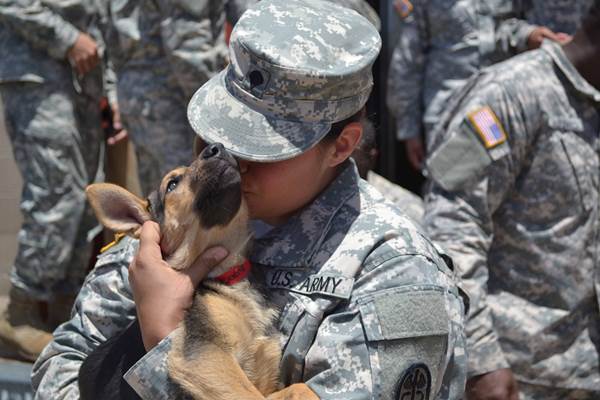 Army SPC Clenny cuddles with an orphan puppy Helen Woodward Animal Center
Helen Woodward Animal Center helps bring the unconditional pet love to military families just in time for Veterans Day. For the 8and year, the Center is proud to partner with the Animals for the Armed Forces Foundation, a special non-profit organization covering the cost of adopting orphaned animals for approved military families while supplies last. Helen Woodward Animal Center invites military families to meet potential new furry family members during a special adoption weekend, Saturday, November 13 through Sunday, November 14.
The Animals for Armed Forces Foundation is a Southern California nonprofit organization dedicated to bringing smiles to military heroes while rescuing orphaned animals in need. Together with Helen Woodward Animal Center, they recognize the years of comfort, laughter, joy and devotion that a loving pet can provide – all crucial elements in helping service members and their families whose lives have been dedicated to service. of our country from near and far.
Helen Woodward Animal Center has seen the healing power of animals and facilitates a number of programs dedicated to serving our military community. The Pet Encounter Therapy (PET) program typically serves 60-70 veterans per month (at VA Hospital and Hawthorne Center), using therapy animals to help lower blood pressure, regulate breathing, improve memory, and rebound the morale of wounded soldiers.
The Center's AniMeals program also regularly helps the military through a partnership with natural pet food company Blue Buffalo. The program provides pet food to injured military customers with service dogs through the Office of the Recovery Care Coordinator (RCC) and the Navy Marine Corps Relief Society (NMCRS), ensuring that food costs are not a factor in keeping these beloved friends alongside the soldiers who depend on them.
Additionally, the Center's Pets Without Walls program assists the non-profit Cammies and Canines, providing routine spaying and medical care to former shelter dogs they match with veterans in their program.
The Helen Woodward Pet Hospital Military Fund also supports our military by providing free services to active duty service members E-1 through E-7 or disabled service members and their immediate family members. The much-requested fund is constantly seeking donations to continue providing these incredibly important services. To donate to the Helen Woodward Pet Hospital Military Fund, please contact Vice President of Development Renee Resko at (858) 756-4117 x 347 or donate online at www.animalcenter. org.
"We are very grateful to the Animals for Armed Forces Foundation for sponsoring this special military weekend," Resko explained. "Our military families deserve our utmost appreciation and I can't think of a better way to show that appreciation than by offering them the unconditional love of a devoted pet."
For more information, please contact the Helen Woodward Animal Center Adoption Department at: 858-756-4117 ext. 1, visit www.animalcenter.org or stop by 6461 El Apajo Road, Rancho Santa Fe, CA 92067.
*Adoption details:
(Pay only a $32 microchip fee.) Limit of one pet per household. The family must meet the adoption requirements. Subject to availability limitations. The military adoption discount applies to active duty, reserve, and veterans of the Army, Navy, Air Force, Marines, Coast Guard, and National Guard, and/or immediate family members. Please bring your photo ID and one of the following to qualify for the adoption discount: • Military ID • Dependent ID • Veterans ID • DD- 214 and driver's license • Form NGB 22. Thank you for your service!