Choptank Animal Hospital awarded by Maryland State Fire Marshal for help with investigation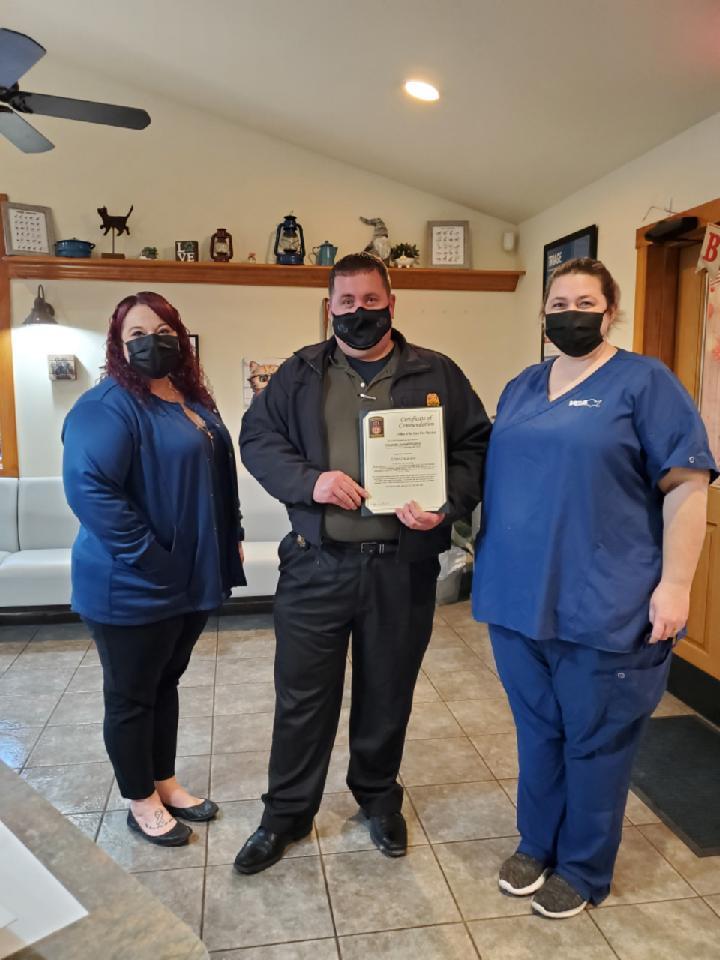 DORCHESTER COUNTY, Md. — Staff at Choptank Animal Hospital have been recognized by the state fire marshal for their work investigating a fatal fire. The fire killed two people on New Year's Day.
Dr. Katelin McConkey and Brandy Warnick received unit citations for their roles in the investigation. Unit citations are given in situations where other law enforcement agencies, or their members, have provided exemplary and meritorious assistance to the Office of the State Fire Marshal.
After investigators found the remains of the owners' two dogs in the home, they were unsure how the fire started and whether they were the owners who died from homicide. A family member of one of the victims told investigators that their dogs were very protective of their owners and that they allegedly died doing so.
Dr. McConkey offered to perform necropsies on both dogs free of charge. She performed the necropsies in front of her staff, which fire investigators say was a learning experience. He also revealed that the dogs had died from smoke inhalation. "In this case, Dr. McConkey stepped up and offered his services at no cost to not only assist our investigators, but more importantly to provide answers and ultimately end the family," State Fire Marshal Geraci said in a statement. communicated.
In a statement, State Deputy Chief Fire Marshal Matthew Stevens said, "Investigating the fires is a slow, methodical and tedious process. Any fire resulting in death is even more difficult. This discovery helped investigators focus their resources on the origin and cause of the fire.