The public is invited to a retirement party for Memaw, Instagram star and feline director of the Williamson County Animal Center (WCAC), Wednesday, May 5, from noon to 1 p.m. at the shelter.
Memaw broke down barriers with his walking on a leash (a real conversation starter) and served as an icebreaker to discuss cats – especially senior cats – with many people. In 14 months, she changed many people's perception of what cats can do.
Found abandoned in the WCAC parking lot in March 2020 (the day before the COVID-19 pandemic shutdown), Memaw was estimated to be at least 12 years old (equivalent to 65 in human years). Despite her age, she was active and vocal from the start, with a certain courage and an unmistakable mew that left no doubt of her responsibility.
Shelter staff dubbed her "Memaw," and she became the WCAC's mascot and main cat advocate, garnering attention by butting her favorite humans, walking on a leash, and riding calmly on the shoulders of shelter worker Penny Adams.
For several months, Memaw lived in Adams' office at the WCAC, attending photography sessions, greeting visitors, sitting on keyboards (his favorite), and dropping papers on the desk (his second favorite).
Together, Memaw and Adams (a photographer) visited local schools and businesses, as well as a list of famous Middle Tennessee sites, including the John Seigenthaler Pedestrian Bridge, the Parthenon, downtown Franklin and a local lake. .
Always up for a good time, Memaw loved her costumes, dressing up as a princess, pirate, lumberjack, and even ET as she had her list of adventures. As her photos rose on Instagram (@Adventuresofmemawkitty), her fame grew to include 556 followers in 12 months.
In November 2020, Memaw and Adams submitted their nastiest photo to the Cat's Pride® Cat Litter Twin to Win contest. They came out on top, winning $5,000 for the shelter — another win for the adorable, grumpy senior cats.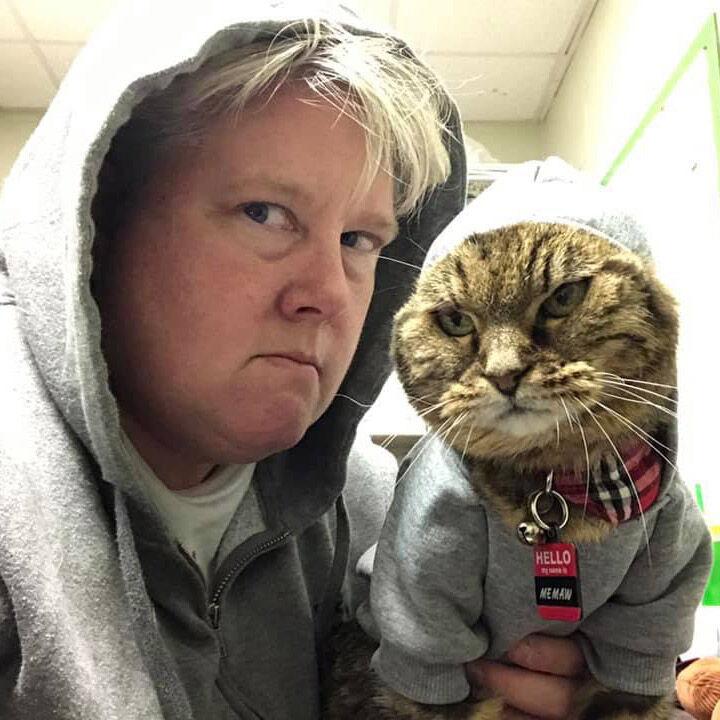 A bit of age-related arthritis forces Memaw to retire from public appearances. Apart from a few aching joints, she is happy, still cantankerous and most certainly opinionated. She would spend her final years at the home of a shelter volunteer and voice-over artist, where she made surprise studio appearances and received lots of loving care, gourmet food (she prefers fresh salmon), cuddles and hugs. head shots.
Memaw doesn't want too much to do for her retirement party, so she's asking the public to pay in her honor by donating to the shelter to help other cats and kittens. Donations of kitten food, cat toys and laundry soap are required and can be dropped off anytime at the shelter or at the May 5 party.
For more information about Williamson County Animal Center, visit www.adoptwcac.org or call 615-790-5590. The shelter is located at 106 Claude Yates Dr. in Franklin.