Animal Care and Control Appreciation Week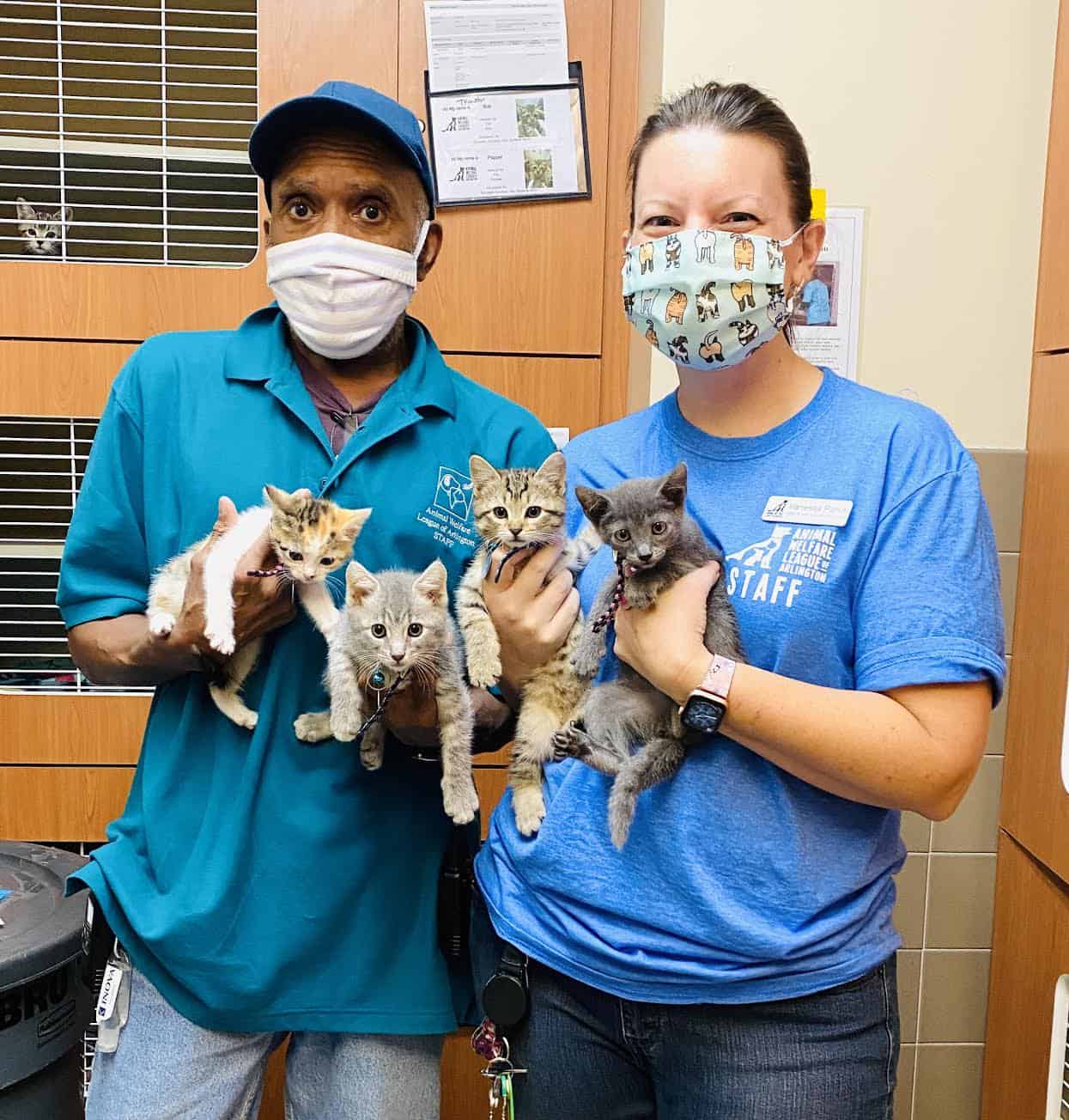 Animal Care and Control Appreciation Week is a time to honor the people who work hard for animal care and control who serve the public and save lives.
We are incredibly proud and grateful of our animal care and control teams. We invite you to join us in celebrating their hard work and dedication to the animals in our care and the people and pets in our community! Our Head of Animal Control and Animal Care Manager wanted to share these words about their teams:
"With each new year, new ideas, new changes and new challenges arise in the field of animal welfare. I have had the privilege of serving Arlington County for 10 years now and know only too well the sacrifice, dedication and compassion of AWLA's animal care and control teams. Last year continued to break records with over 4900 animals passing through our doors and more animals than ever finding loving homes. Animal Control handled 4,493 cases – 1,000 more cases than ever in our history! The work of these two teams is so intertwined and integral to the success stories you see on our social media pages and newsletters. These two teams have remained essential in-person personnel throughout the pandemic and have been unwavering in their commitment to upholding our mission and values.
Animal control officers handle the work in the field, but as soon as we return to the shelter with a stray animal, there is the kind face of an animal care staff member ready to help assess, care for and love. this animal until its family is found. . Likewise, they are with us late at night tending to the needs of an injured animal or a seizure of cruelty cases. They come early, stay late and provide unwavering support – these two teams couldn't succeed without the other. This symbiotic role in the well-being of each animal leads these two teams to be very close.
This has never been more important than in the handling and care of the pets of community members we have lost to COVID-19. I remember the case of a young man we lost here in Arlington. I responded with another animal control officer at the scene to meet with Arlington County Police and Fire Department. There was a moment of silence in the hall as we all donned PPE and looked down to acknowledge another loss. He was young, younger than me, and it hurt a lot. We were able to pick up her dog, who was confused and fearful and couldn't understand why creepy people in big white suits with masks were coming to her house to take her away. I returned to the shelter and told an animal care staff member about her as we set her up with extra treats, a quiet space, and comfy bedding. This animal care technician must have seen the pain I felt explaining the situation as we watched the animal. She put her arm around my shoulders and hugged me tight. I really needed that pressure. We worked out a plan to make the animal as comfortable as possible and contacted the family. They rushed in and picked her up a few days later. Members of the animal care and animal control team took turns sitting with her, tossing treats and gently encouraging her until family arrived.
These types of situations and stories happen again and again every year at AWLA, as part of the behind-the-scenes work of our organization. please join me this the week as we take a moment to honor the hard work, selfless sacrifice, dedication and tireless commitment of animal care and control teams.
~ Jennifer Toussaint, Head of Animal Control
---
"To our animal care technicians: thank you for taking such good care of our animals. Thank you to everyone for going above and beyond to ensure our animals are in a safe, clean and welcoming environment. Your attention to their health and happiness comes through every day, from our cats curled up in their clean beds and blankets, to our dogs enjoying that extra toy chosen just for them, to the rabbit enjoying one of the many hiding places you have chosen for them. The animal care team has a wide range of responsibilities and there is no job they can't or won't do. One moment they're administering fluids for a dehydrated kitten, and the next they're sorting through donations from the public. Our animal care technicians do a lot of work and they do it very well. » ~ Jose Serrano, Animal Care Manager